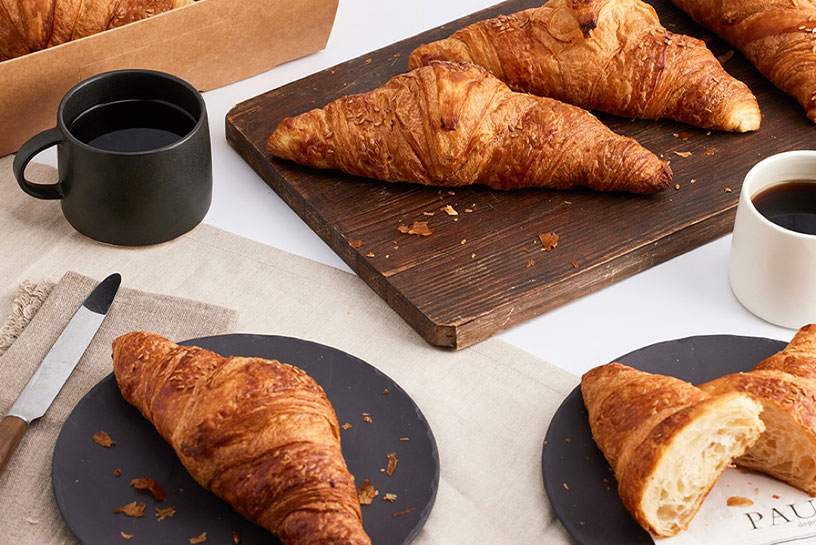 There's no more quintessentially Parisian breakfast than a flaky, buttery croissant. At PAUL, we're renowned for our dedication to the croissant cause – we believe that everyone should enjoy one of life's greatest indulgences. This is why we're delighted to introduce our new vegan croissant.
The Most Iconic French Viennoiserie – Now Vegan
Rich and tasty, with a crisp linseed-adorned crust and deliciously soft center, our vegan croissant offers all the golden decadence of a traditional croissant – but without the butter. Whether you avoid dairy, are mindful of your macros, or simply want to justify eating a pain au chocolat as well, our vegan croissant option is the perfect pick for you.
With 40% fewer calories than our pure butter croissant and a taste that rivals the original, PAUL's new vegan croissant will definitely butter you up!
Treat Your Palate to a Vegan Croissant Today
Ready to put your tastebuds to the test? Pair our new butter-free vegan croissant with your favorite warm beverage and let us know what you think. Whether you're a croissant aficionado or someone who is new to this classic pastry, we hope you love our soft-as-butter (yet sans le beurre) croissant as much as we do!