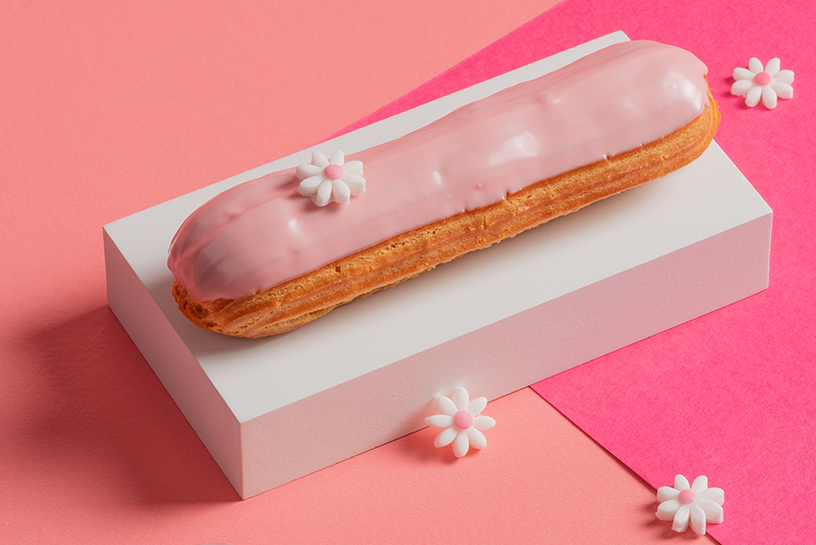 The cherry blossoms are here, and PAUL is tickled pink to announce an effervescent menu to match. These new menu items will put a spring in your step and, unlike the cherry blossoms, will be around all year!
Here are just some of the delicacies our menu will be abloom with:
The strawberry flower éclair
Talk about an éclair to remember! Our strawberry flower éclair features strawberry pastry cream wrapped in delicate choux pastry and topped with white chocolate and strawberry icing. Floral decorations make this the ultimate spring fling.
The red fruits cheesecake
A feast for both the eyes and the palate, this indulgent cake features a heart of cream and soft cheese topped with radiant red fruit. Simple and refreshing, it's the perfect pairing for those crisp spring mornings.
The pink strawberry ganache tartlet
Nothing makes the senses sing like strawberries. With its sweet pastry shell, strawberry jelly, strawberry ganache filling, and fresh strawberry topping, our new tart proves you can never have too much of a good thing.
The pink croissant
Happiness is a pink croissant. Crafted from airy, flaky croissant pastry and topped with Ruby Red chocolate, this sweet treat is an ode to the season – and makes the perfect morning pick-me-up.
The pink palmier
You've never seen a palmier like this before. We take our iconic buttery puff pastry cookie, dip it in rose or dark chocolate, then add a smattering of freeze-dried raspberries. Every bite will have you singing the praises of spring.
The pink cake
We've elevated our famous vanilla sponge cake with a hand-crafted topping of cherry compote and cherry buttercream, delivering the invigorating taste of spring in every tangy forkful.
The raspberry millefeuille 
Spring comes in layers, and so does our raspberry millefeuille. A classic puff pastry filled with vanilla pastry cream and topped with fresh raspberries and pink whipped cream will make your heart sing like spring birds!
Inspired to welcome the season with the perfect dessert pairing? Stop by PAUL today and take your pick of our pink products!