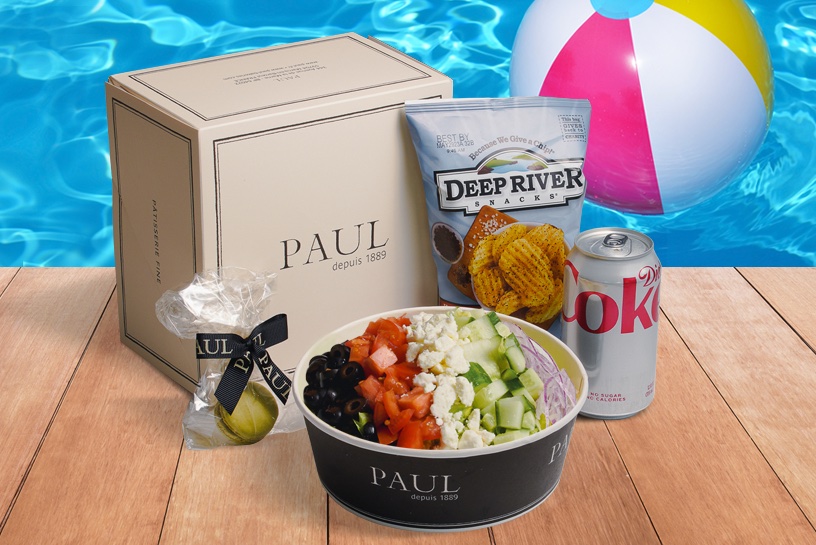 The sun is out, and so are PAUL's Summer Bundle Specials! Whether you're after some sweet treats or a savory spread worthy of a picnic, our thoughtfully priced Summer Specials are more than a fling: they're love at first sight.
Stop by during the following times to enjoy:
Breakfast Bundles (valid 7:30 AM – 11 AM)
Every good day starts with a delicious breakfast. PAUL's freshly baked croissants and lovingly prepared breakfast sandwiches are here to bring some joie to your day. Choose:
Any Croissant & Medium Drip Coffee – $5.99
Any Breakfast Sandwich & Medium Drip Coffee – $9.99
*Upgrade your bundle:

Change to a medium espresso-based drink for $2
Lunch Bundles (valid 11 AM – 3 PM)
Let's do lunch. Perfect for dine-in, take-out, or for that office meeting, our lunch bundles make an occasion for the midday meal. Select from:
Any Sandwich, Croque, Quiche, or Salad – $15

+ Lemonade, Iced tea, or Soda Can
+ Chips or Side Salad

½ Croque & Tomato Soup – $10
*Upgrade your bundle:

Add a mini macaron or sugar donut for $1
Add a tart slice for $5
Happy Hour Bundles (valid 4 PM – closing)
Stave off that afternoon slump – or reward yourself for the day's hard work – with our Happy Hour Bundles. Featuring our favorite dessert options, they're just the pick-me-up you need to finish the day parfaitement. Enjoy:
Any Dessert Slice & Medium Espresso Coffee – $10
Buy 3 Large Macarons, Get 1 Free
All-Day Box Bundles
There's never a bad time to treat yourself. If temptation strikes outside standard meal hours, our All-Day Box Bundles have you covered! Enjoy specials on croissants, mini donuts, and mini macaroons any time of day. Try:
Any 4 Croissants – $10.99
Any 8 Croissants – $19.99
Any 10 Mini Donuts – $9.99
12-Pack Mini Macarons – $19.99
Sweet or savory? Meal or treat? PAUL has exactly what your summer palate craves. The days are long, and so are our opening hours – so you have plenty of time to stop by!