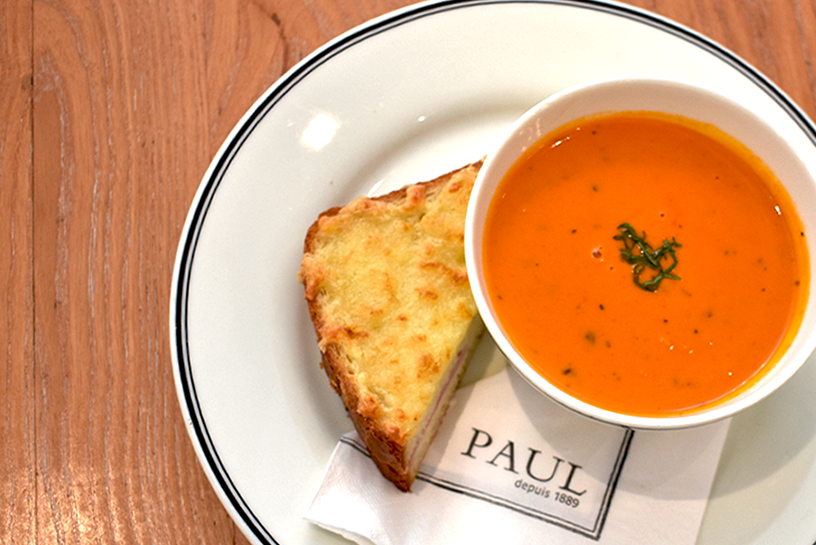 Nothing brings people together like good food. Treat yourself – and a friend – to a taste of Paris with PAUL's menu of delectable meal deals. Whether you're after a quick morning bite, a lunch to linger over, or a snack for on the go, PAUL has exactly what your palate is craving.
PAUL's Breakfast Deals
Start your day the Parisian way with a perfectly brewed coffee and a hand-crafted pastry or freshly made omelette.
Medium Brewed Coffee and any Croissant $4.99
Medium Brewed Coffee with Sausage, Egg, and Cheese Croissant $9.99
Medium Brewed Coffee with any 3-Egg Omelette $14.9
Prefer your coffee a little more Italiano? Upgrade to an espresso-based coffee for $2.
PAUL's Lunch Deals
Nothing says decadence like a gently browned Croque – especially when paired with a soul-warming soup of your choosing.
1⁄2 Croque with any Soup $9.99
PAUL's All-Day Deals
Indulge your sweet tooth any time of day with our undeniably decadent all-day deals. Whatever your preferred flavor profile, we have you covered.
Add a mini beignet to any sandwich or salad purchase for $1
Buy 2 Large Macarons, Get One Free
Buy 2 Eclairs, Get One Free
Stop in to See us Today!
Whether you're on the go or craving a sit-down option in classic surroundings, PAUL has a delicious menu item that will transport you right to Rue Montorgueil. Stop in to see us today or order online!