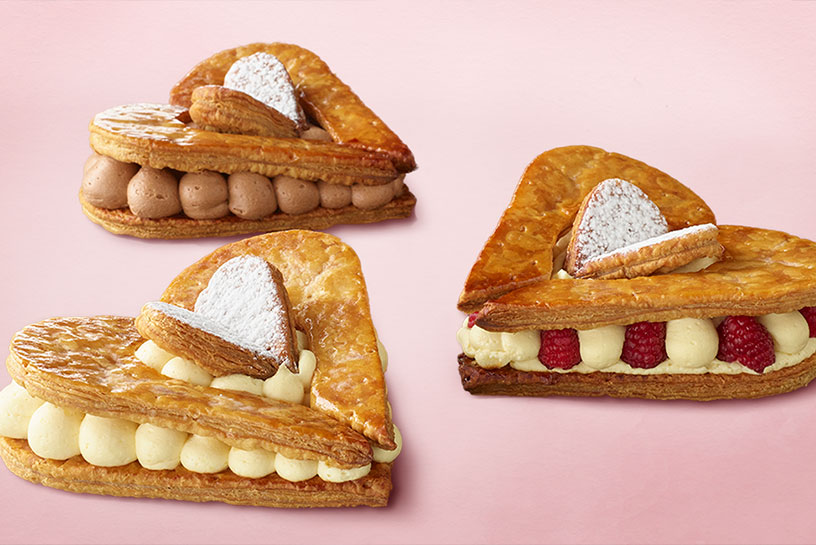 Love is in the air, and Valentine's Day treats are on our minds. After all, the best setting for whispering sweet nothings is over a plate of sweet Parisian-inspired delicacies. Whether your romance style is planned to perfection or daringly spur of the moment, PAUL has a delectable dessert to make your loved one's heart melt.
Sample our Limited-Edition Valentine's Menu
Our Valentine's Day menu, available February 9-14, features a limited-edition selection of passionately hand-crafted and decorated items that will inspire love at first bite.
Our eye-catching pink and chocolate heart palmiers offer an elevated twist on candy sweethearts and are perfect for those who like to wear their hearts on their sleeves. For lovers of the classics, our raspberry cream macarons will entice and impress, providing an impression that lingers in all the right ways. And if you're the kind who falls for the strong-willed and feisty, our perfectly tangy raspberry heart tart is the ideal partner for you.
Love is Always on the Menu at PAUL
If you're looking to affirm your love on or beyond Valentine's Day, we've also been busy perfecting a selection of new menu items that will be available all year round. They include our chocolate, raspberry, or vanilla heart mille-feuille – aka Napoleon – a truly decadent layered custard-filled dessert, and our chocolate peanut butter éclairs, a simple classic that you'll instantly declare your soulmate! Until April, we'll also be offering a delicate raspberry croissant, an indulgent option for that romantic brunch or as a treat for on the go.
Whether you'll be sharing the love or eating your feelings this Valentine's Day, PAUL has a menu item guaranteed to take your breath away. Stop in to see us and experience love made edible.