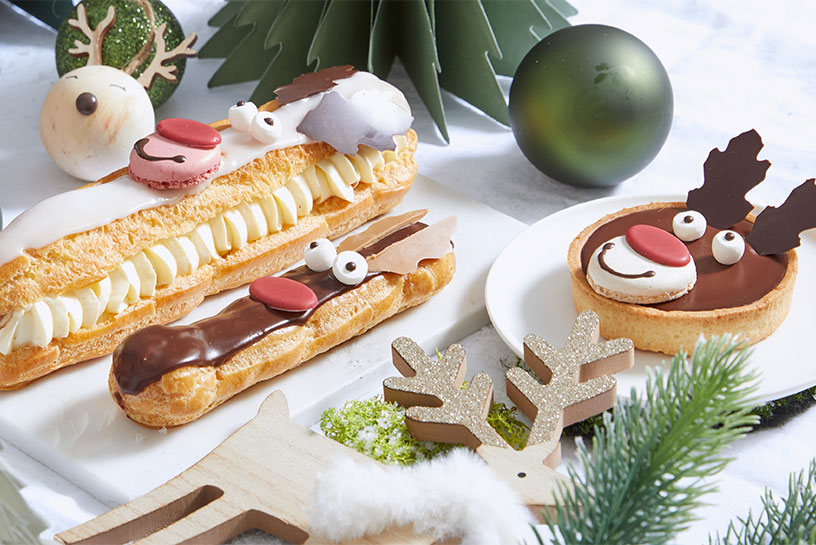 Nothing perfects a holiday spread like a well-chosen dessert. Whether you're preparing a traditional menu, hosting a casual get-together, or want to show up at the event of the season with the perfect gift for the dessert table, PAUL has you covered.
Here are some of our top indulgences for the upcoming holidays.
Yule logs. No holiday table is complete without a Yule log. Called Bûches de Noël in France and traditionally enjoyed on Christmas Eve, these delectable desserts are jaw-droppingly decorated and make for an eye-catching centerpiece. We offer chocolate and fruit varieties to suit all tastes – and all holiday menus! Whether you opt for classic chocolate, red fruit, vanilla caramel pecan, or coffee, your PAUL Yule log will be the talk of the town.
Cakes. A classic note to end a meal on. The PAUL Strawberry Charlotte Cake brings together smooth and creamy custard, decadent Genoese sponge ladyfingers, and an abundance of fresh strawberries, delivering a light, elegant taste sensation that doubles as an eye-catching decorative moment. It's refreshingly festive.
Éclairs. We might be biased, but we do D'éclair that the PAUL Éclairs are the ultimate in classic, shareable desserts. Cream-filled and lightly topped with our classic icing, they're the ideal choice for rounding out that holiday dessert spread, a gift to bring to that fabulous dinner party, a romantic dessert to share with your significant other, or even as a snackable treat in the office. Choose from chocolate or our new Paris-Brest for two varieties.
Cookies. A single bite of a PAUL Caramel Madeleine will take you back in time. They're that good. Soft and delicate, they're the perfect plate for your upcoming holiday event – and are unsurpassed as a treat for friends and loved ones. Be sure to order enough for everyone to enjoy seconds!
Shaped treats. For a charming, whimsical treat, there's no better choice than the PAUL Chocolate Reindeer Tartlet or our Snowman and Reindeer Brioche options. These bite-sized snacks make delightful gifts – and are guaranteed to bring smiles to the faces of your dinner guests!
Galettes. Stunningly rustic, our Frangipane Galette is available in individual and large sizes (serves 8), making it a versatile option for your upcoming holiday event. Fragrant, buttery, and rich with ground almonds, it's a showstopper in every way. The Galette des Rois is served traditionally for the epiphany on January 6th each year, and for extra fun you can add the charm inside
Raise a Fork to Great Desserts!
'Tis the season to come together over good food and good company. Whether you're hosting, gifting, or want to show up with that perfect hostess gift, PAUL has everything you need to make the moment a memorable one. Let PAUL do the baking – so that you can do the sharing.